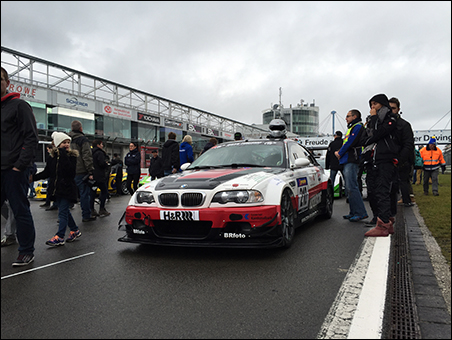 "The entry list for VLN1 is online!"
"Is it any good?"
"Yes! Very! Over 180 cars in total and a massive number of entries for SP9."
"And the drivers? Any big names?"
"Loads. But that was to be expected."
"How so?"
"Now we've lost VLN3 there are only two races before the 24 Hours of the Nürburgring instead of three. So if a driver wants to practice or get his Nordschleife permit, he now has less opportunity to do so. Ergo, more people will want to race in VLN1 and VLN2."
"VLN3 is lost…? Where did it go?"
"Who knows! I'm not good at philosophical questions."
"Hang on. VLN3 isn't lost. It's right here on the racing calendar, see? 24th of June, 2017."
"Yeah, but that's just what the calendar says."
"Huh?"
"We all know the race on June 24th isn't really VLN3."
"I'm going to regret this, but okay: explain."
"The VLN season has always been ten races long, but this year the organisation has reduced it to nine."
"I know. So you lose VLN10. Not VLN3."
"Wrong. For as long as I can remember, we've always had three races before the 24 Hours of the Nürburgring.  Teams can use those races to put in practice time. It's like a tradition. But in order to reduce the calendar length, one of those three pre-24 Hours races has been removed. Do you see it now?"
"No."
"Goodness… do I have to spell everything out? The organisation has removed one of the pre-24 Hours races, but has left everything else in its traditional time frame. VLN1 is raced around the time when VLN1 has always been raced. The same goes for VLN2 and for every single one of the post-24 Hours races as well. The race organised on June 24th, the one that you call 'VLN3', is sitting in the exact time frame where VLN4 has always been. Likewise, this year's 'VLN4' is sitting in the time frame that traditionally belonged to VLN5 and this pattern runs all the way through the season, straight up to 'VLN9' – which is held at the exact time you would expect VLN10. So, if no timeslot has been changed except for that of VLN3, which was deleted, logic demands that VLN3 was dropped. Not VLN10."
"But the calendar says…"
"…exactly what they want you to believe. This season, all VLN-races after the 24 Hours of the Nürburgring will be run under a false name and because people like you aren't willing to see what is right under their noses, they are getting away with it!"
"But…"
"They are getting away with it!"
"Honestly…"
"You are letting them get away with it."
"Don't you…"
"IT'S A CONSPIRACY."
"I need a drink."
"What you need is more resilience."
"Will you be bickering like this the whole season?"
"Like this? Nah. It's only March. I'm still warming up."
"I need two drinks."
The new VLN season is kicking off on Saturday March 25th, at 12.00h. Follow the race at www.vln.de, commentary will be available in both German and English.